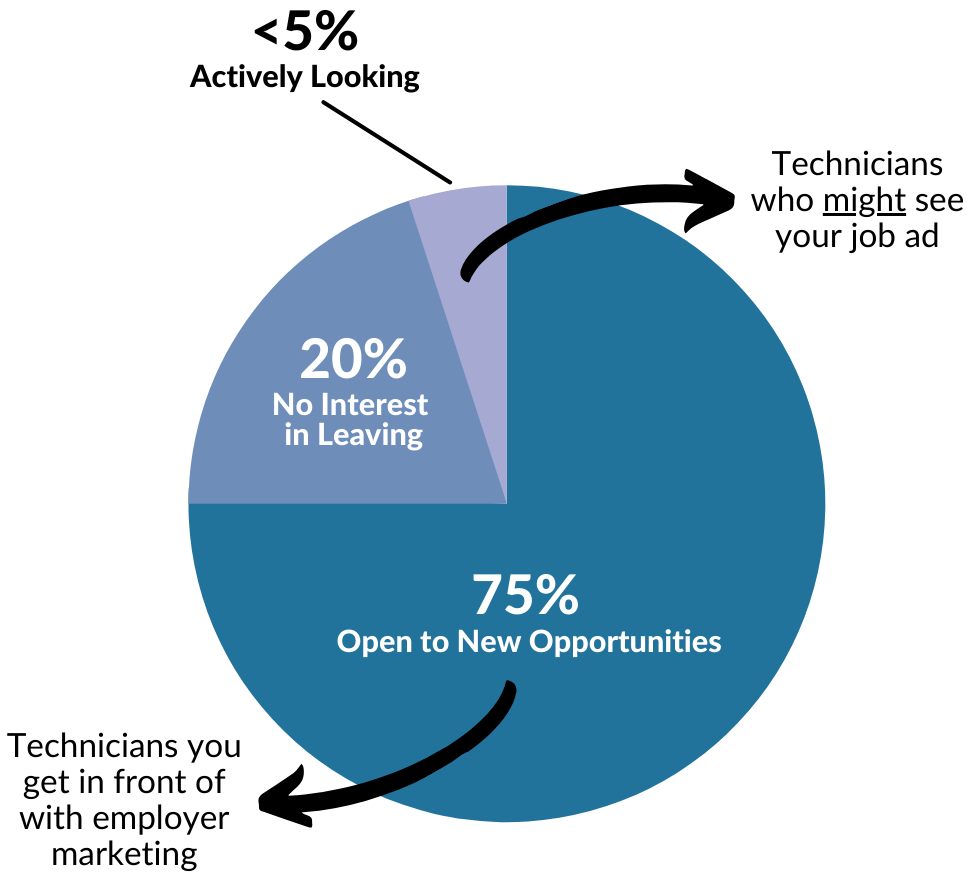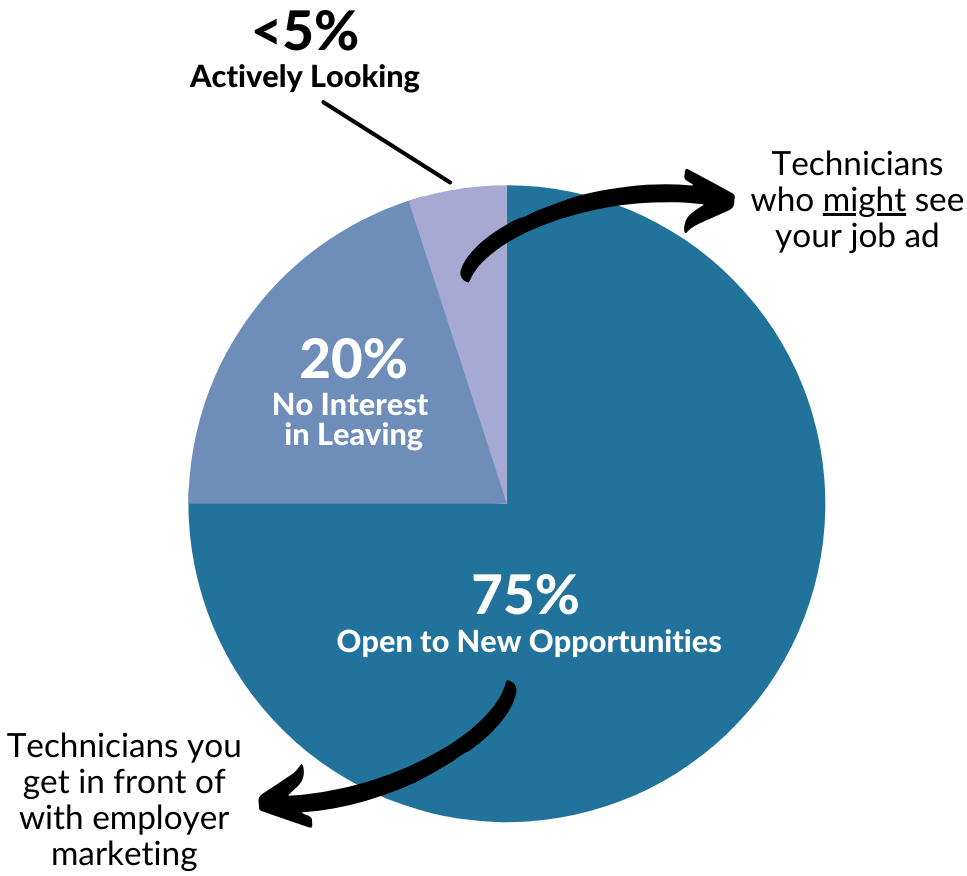 Less than 5% of technicians are looking at job boards, but 75% are open to new opportunities. If your recruiting strategy starts and ends with job boards, you're not getting in front of the majority of technicians. You need to take a different approach to attract passive candidates with employer marketing.
Our WrenchWay Top Shop program is designed to attract both active and passive candidates and show them why they should work with you.
"It's a lot more than just a plain recruiting tool. WrenchWay has become an integrated part of our daily process."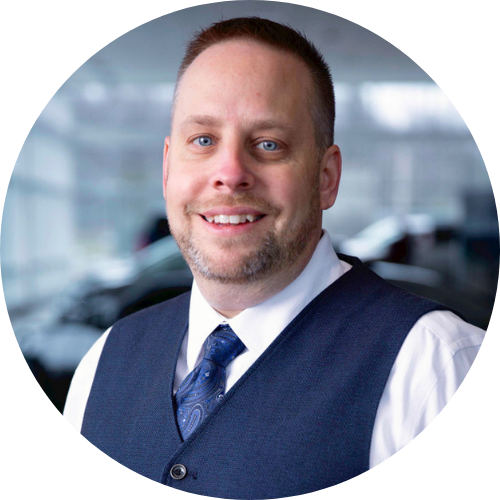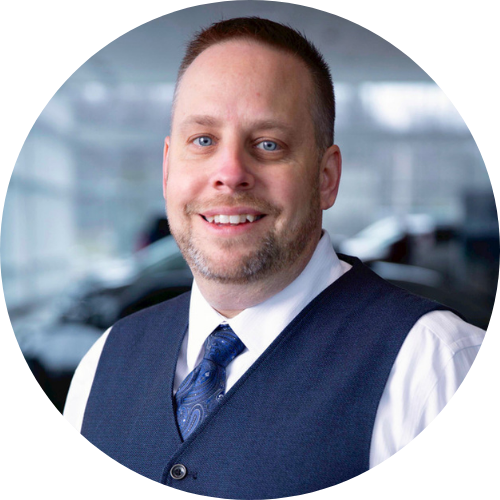 Robert Hamer
Director of Human Resources,
Ron Marhofer Auto Family
What's Included With Your Top Shop Membership?
Not only do we help get your Top Shop page set up, we also provide coaching on best practices on how to attract and recruit technicians.
Custom Top Shop Page
Your dedicated account manager will help you set up your custom Top Shop page. Your Top Shop page gives technicians a detailed look at what it's like to work at your shop:
Compensation ranges for all levels and detailed benefits coverage

Photos of the service area and equipment

Videos of technicians and managers

FAQs on work environment, career development, and hiring process

Open position and quick apply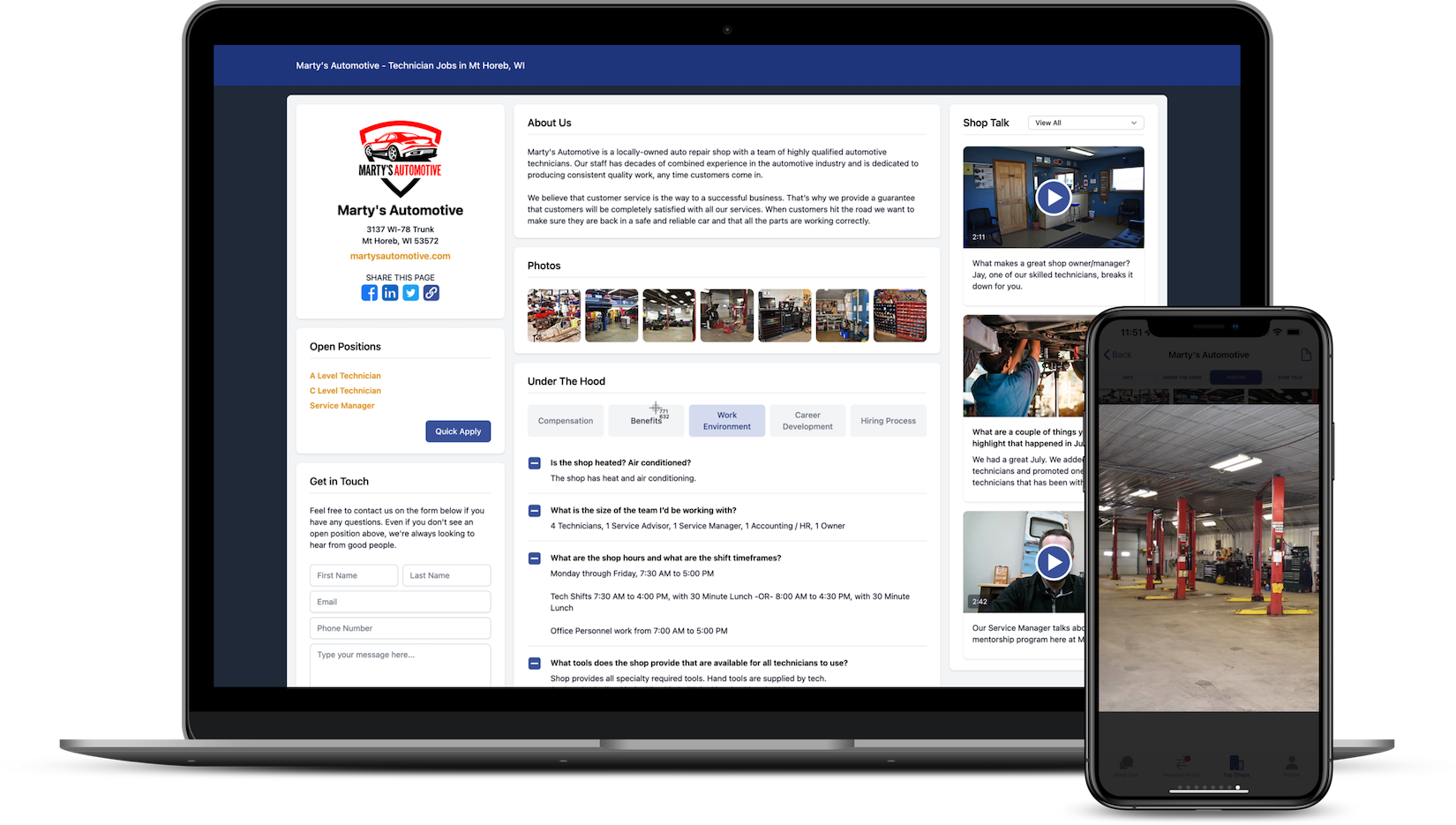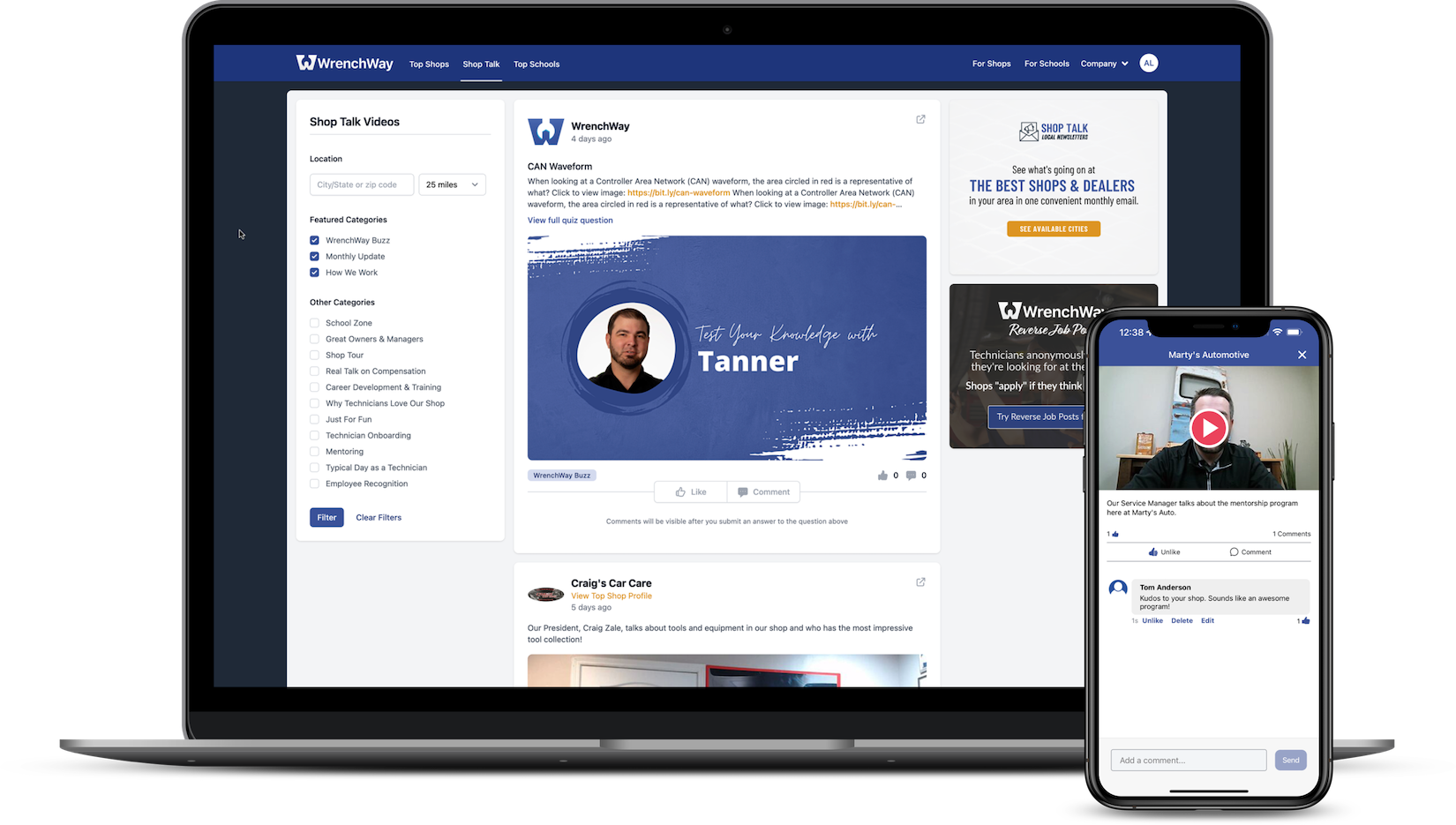 Shop Talk Videos
Video is becoming an increasingly important tool for recruiting technicians. We will create two professional videos each month. These will only take a few minutes on your end, and we'll do the rest. If you'd like to add more, we also provide guides on other types of videos you can record.
The videos will show up on your Top Shop page, and you can use them on your social media pages or anywhere else you would like. We will also promote them in our Shop Talk feed.
*Local Shop Talk Newsletters will be launching later this summer in limited cities. Keep checking back as we will be adding more cities!
Inclusion on WrenchWay's Top Shop Listing
Once your Top Shop page is approved, you will be included on the WrenchWay Top Shop listing on our website and on the WrenchWay mobile app.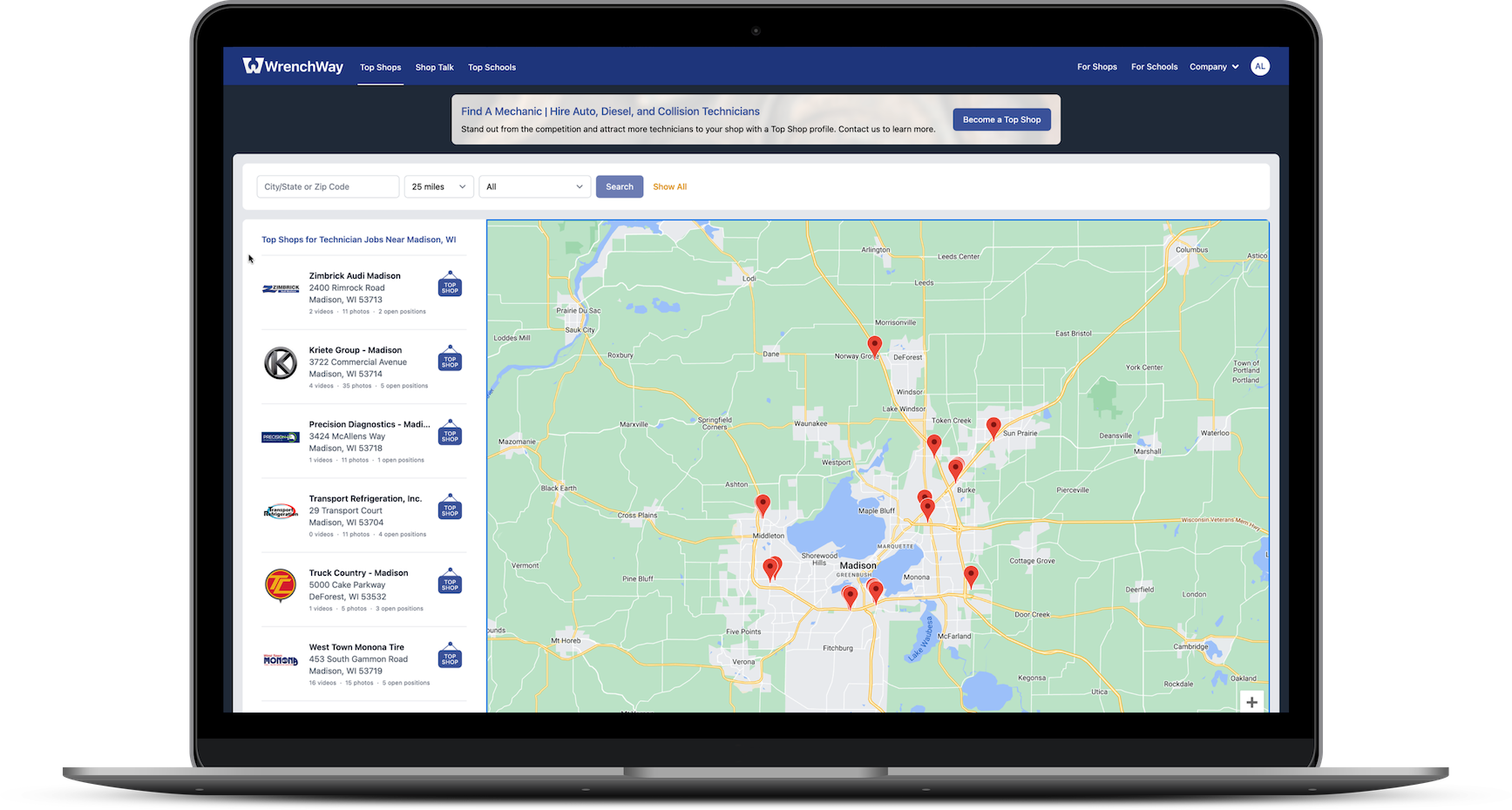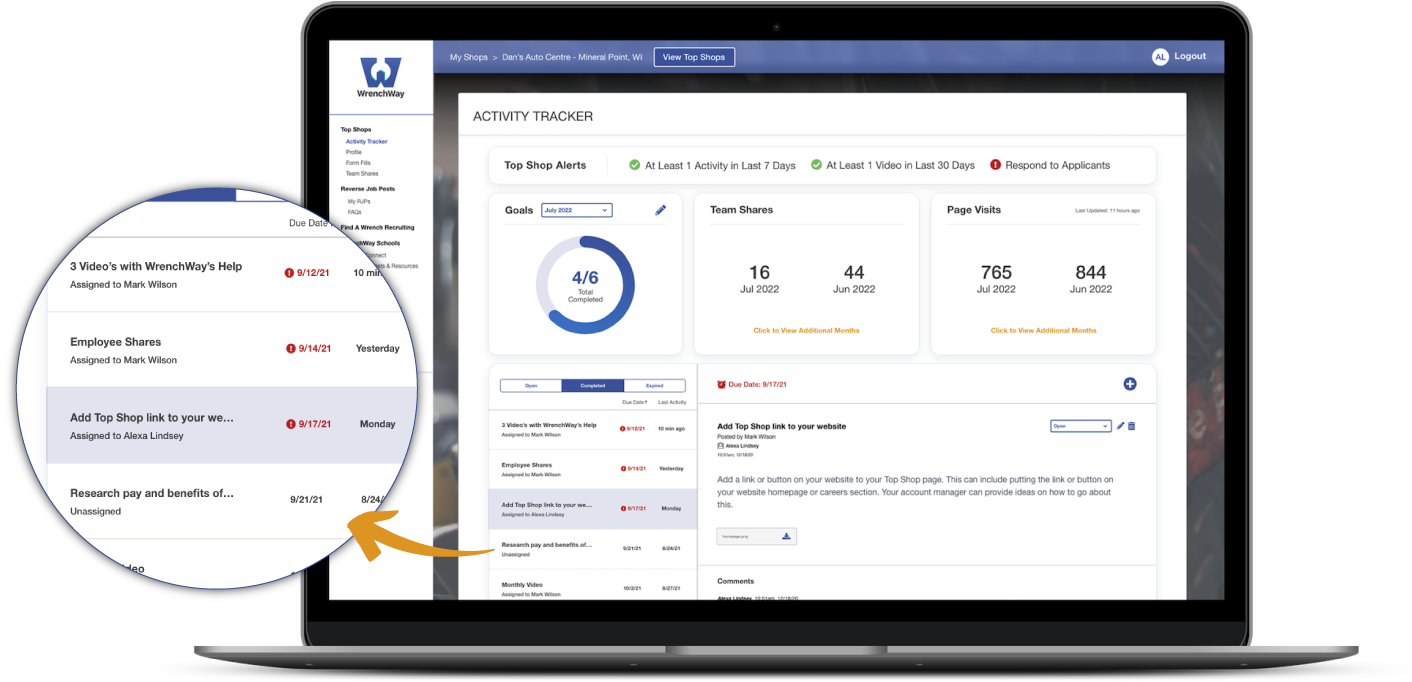 Activity Tracker, Guides, & Ongoing Coaching on How to Utilize Your Top Shop Page
Our activity tracker gives you ideas on simple, yet effective, things you can do each week to recruit technicians.
Your dedicated account manager will work closely with you to make sure you are fully utilizing your Top Shop page in all of your recruiting efforts.
Team Shares Tool
Our Team Shares tool makes it easy to encourage your employees to share your Top Shop page, videos, and job opportunities with their network on social media—helping you get in front of more technicians.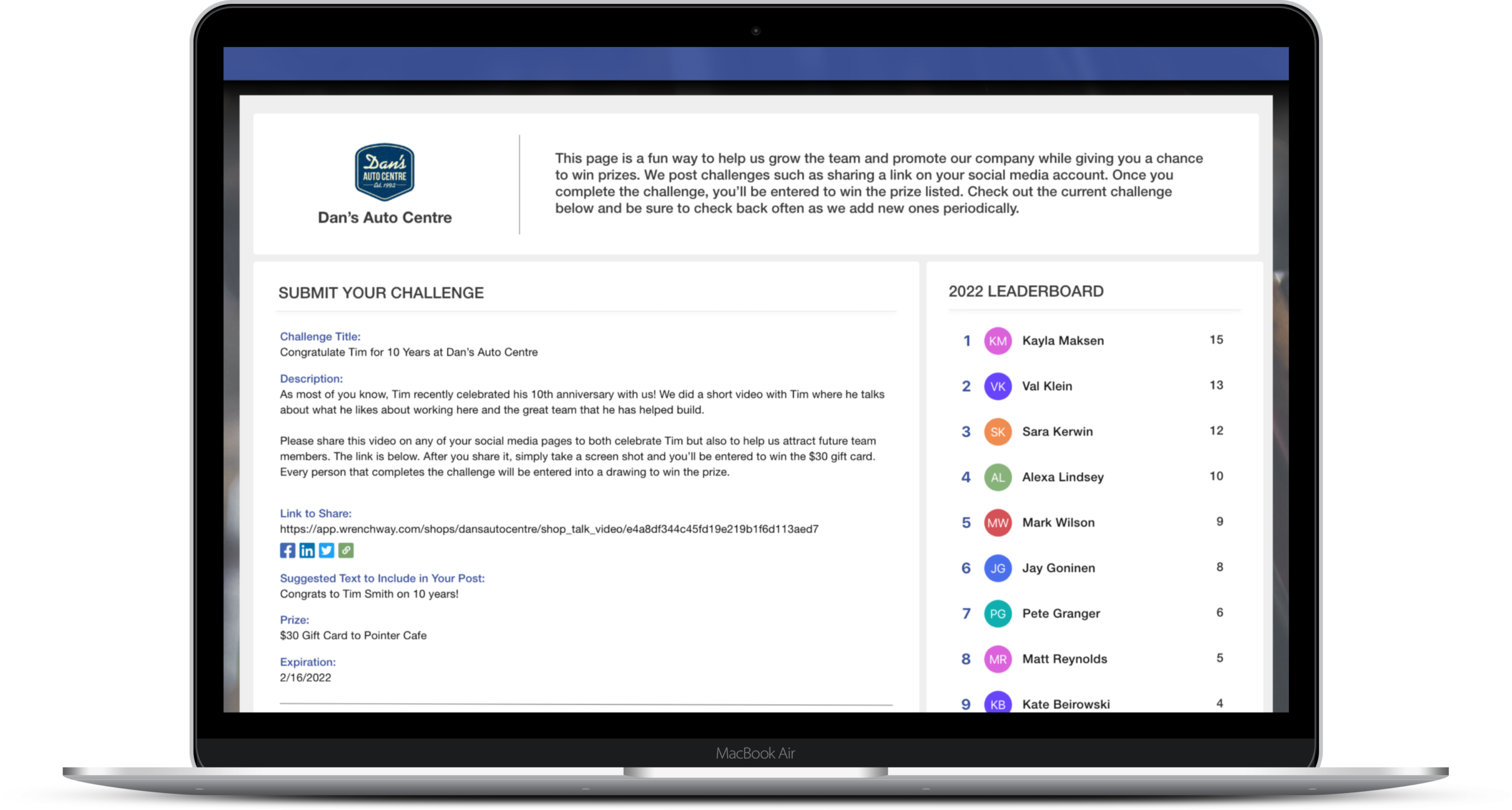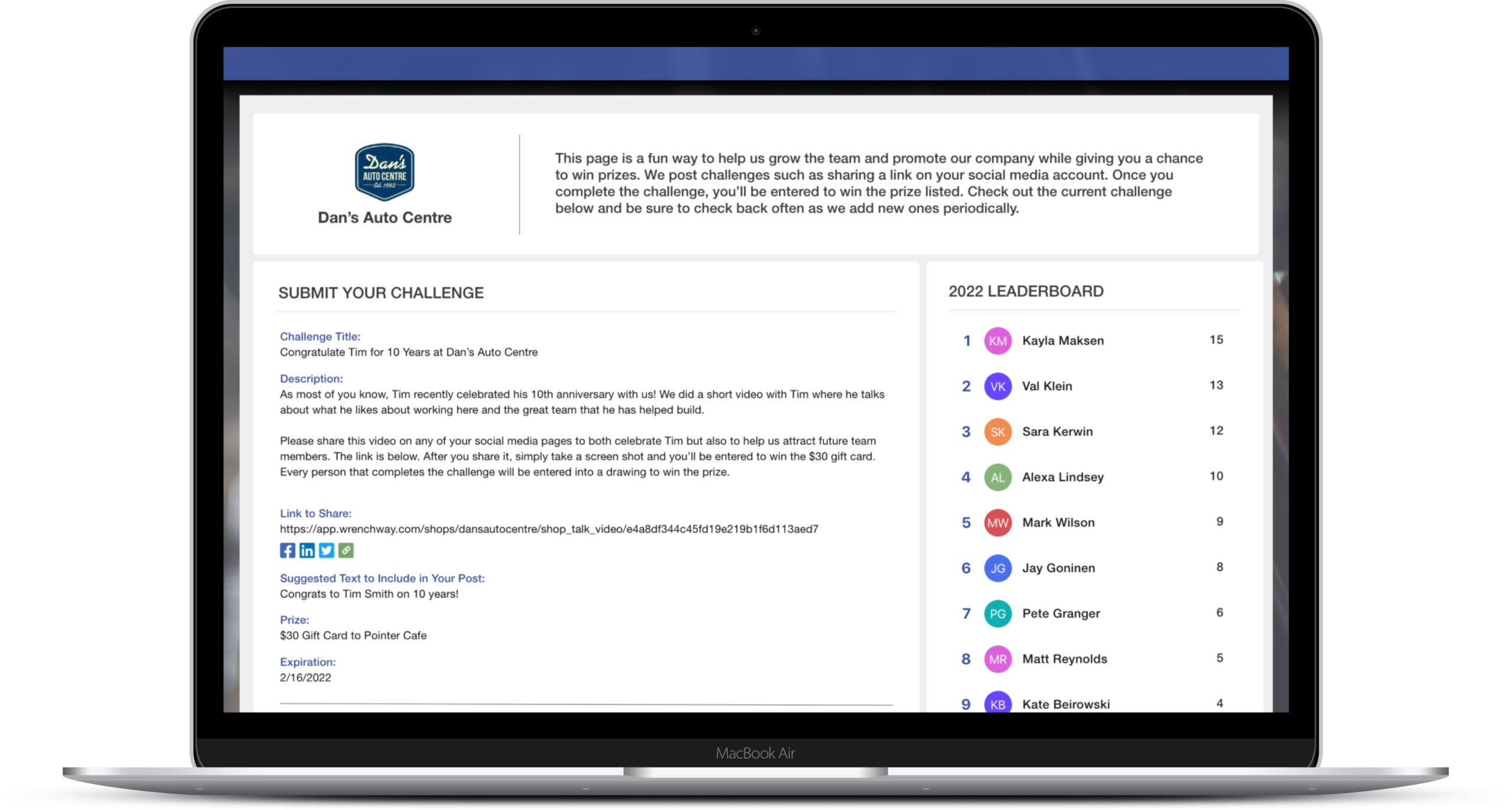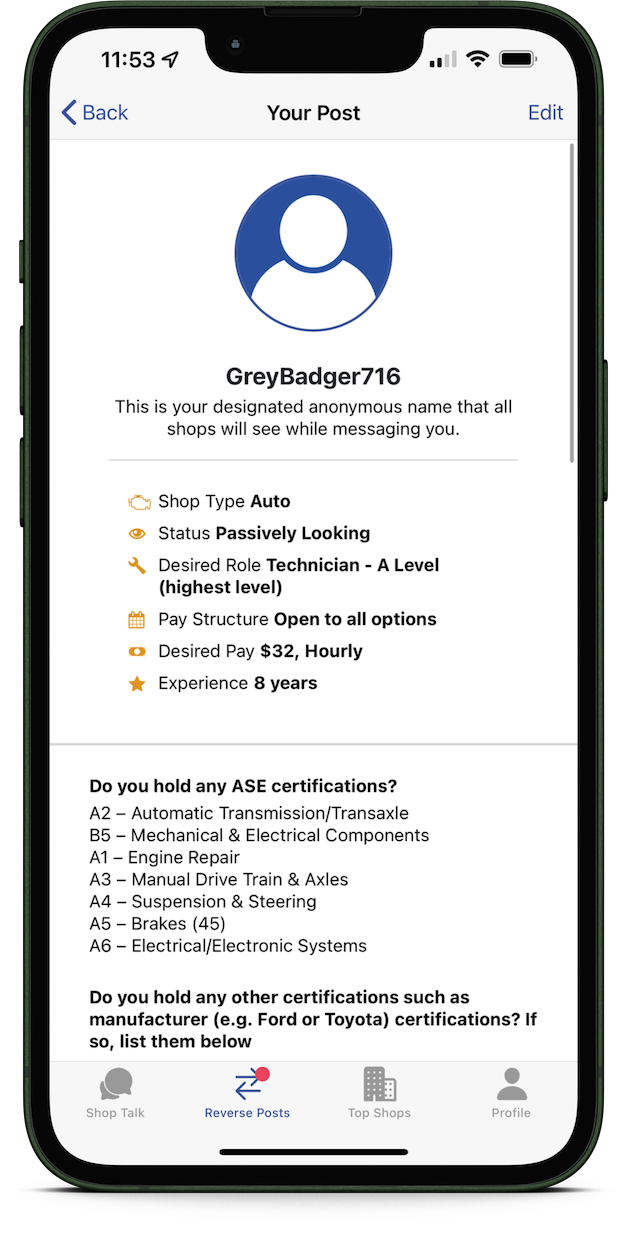 Reverse Job Posts Premium Access
As a Top Shop, you will get premium access to Reverse Job Posts by technicians. Top Shops get:
Reach out to new Reverse Job Posts before non-Top Shops are able to

Listed first on the list of shops technicians approve to see their Reverse Job Post

A link to your Top Shop page on the list of shops technicians approve to see their Reverse Job Post

School Connect
Get in front of more students by building relationships with local schools using WrenchWay School Connect. Post available donations, offer shop tours, or simply ask schools what they need to improve their program.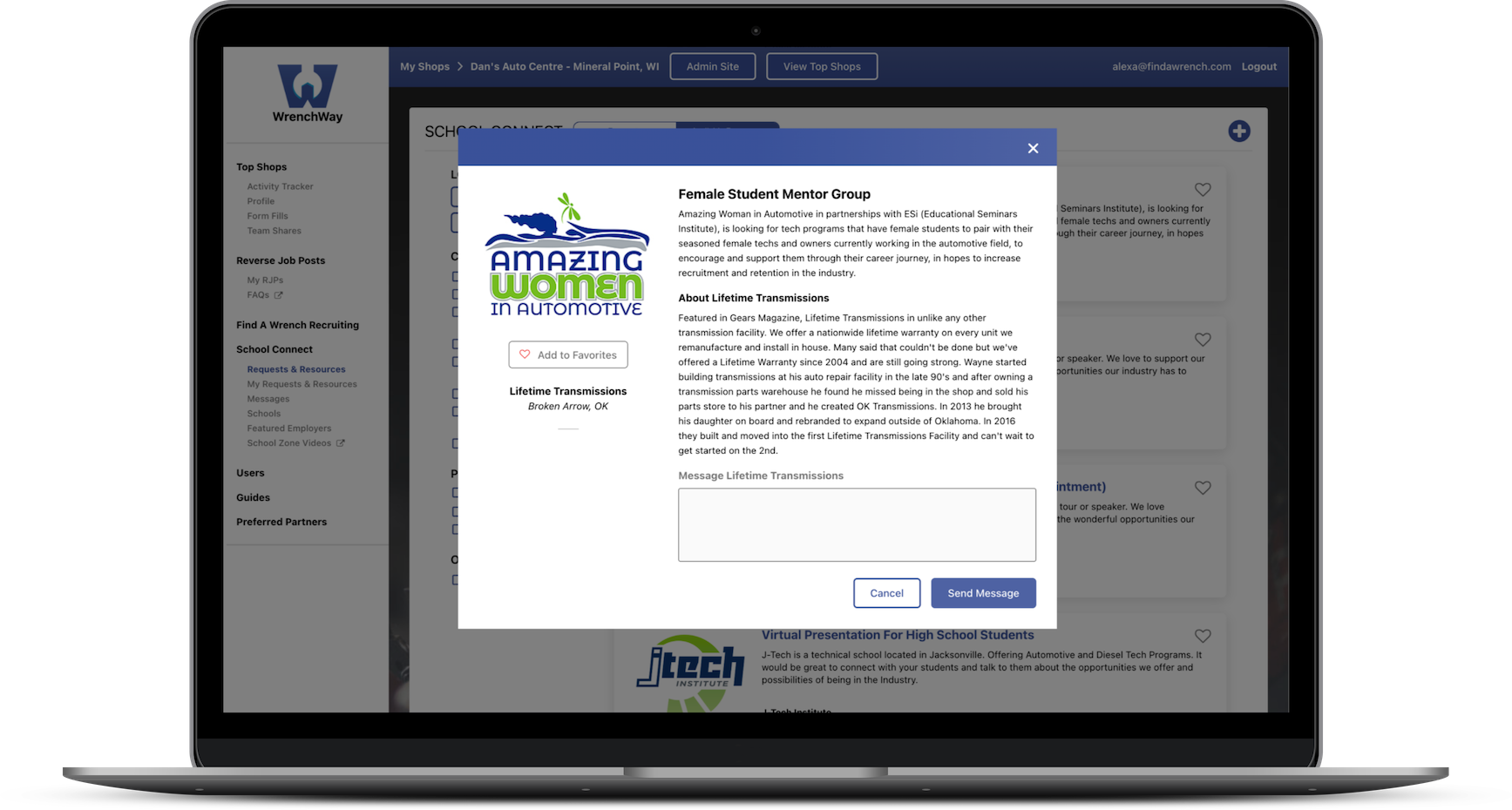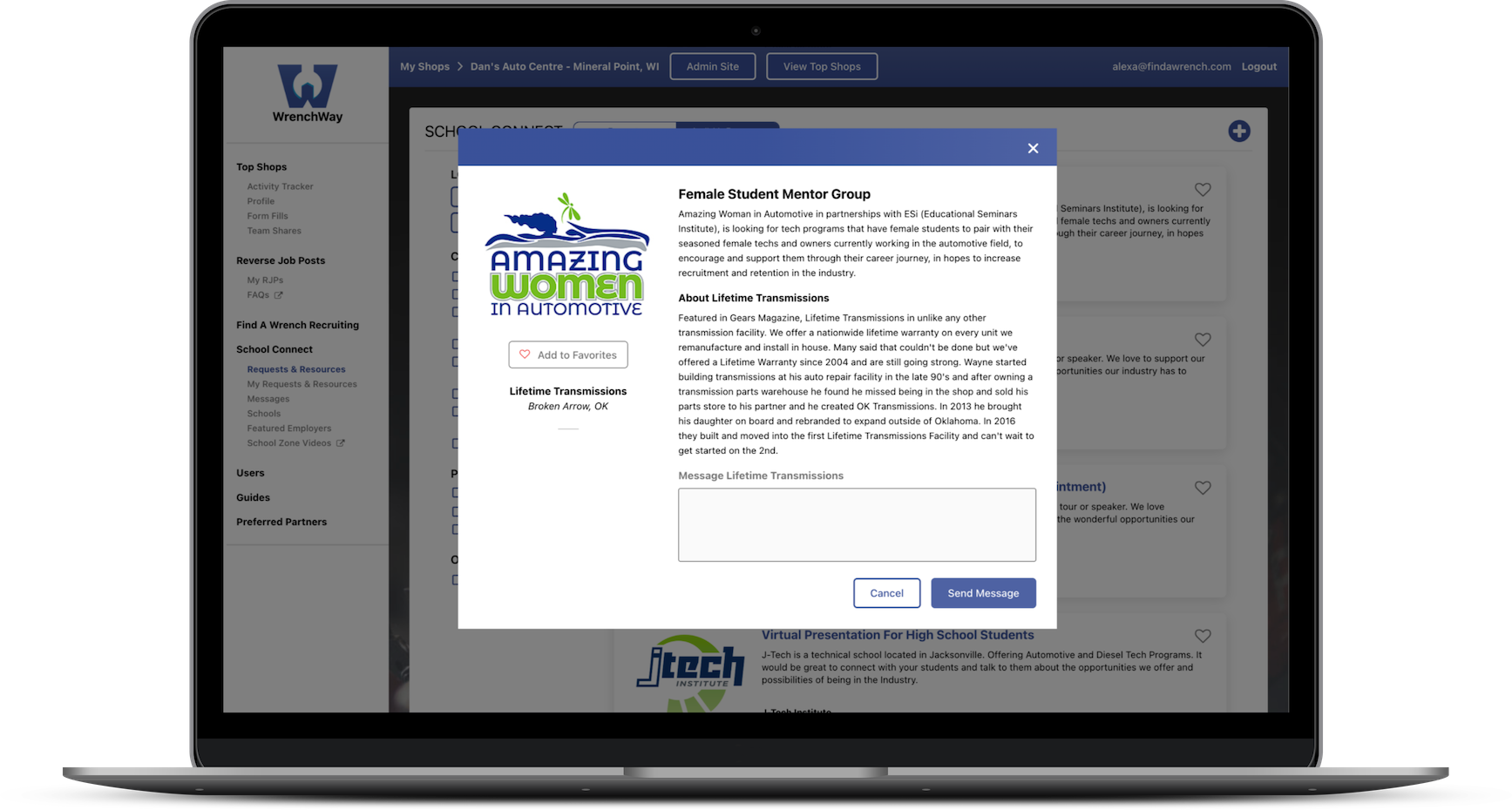 Trusted By Leaders in the Automotive, Diesel, and Collision Industries
Interested in Becoming a WrenchWay Top Shop?
Fill out the form below, and we'll be in touch soon.