Introduction:
Why is it So Hard to Find Technicians?
Shop owners and people in charge of hiring are all too familiar with the struggle of finding technicians. The technician shortage is not a new issue. However, it is becoming more urgent for shops to take action. The statistics vary, but the Bureau of Labor Statistics estimate about 69,000 openings for technicians each year over the next decade… And that's just in automotive.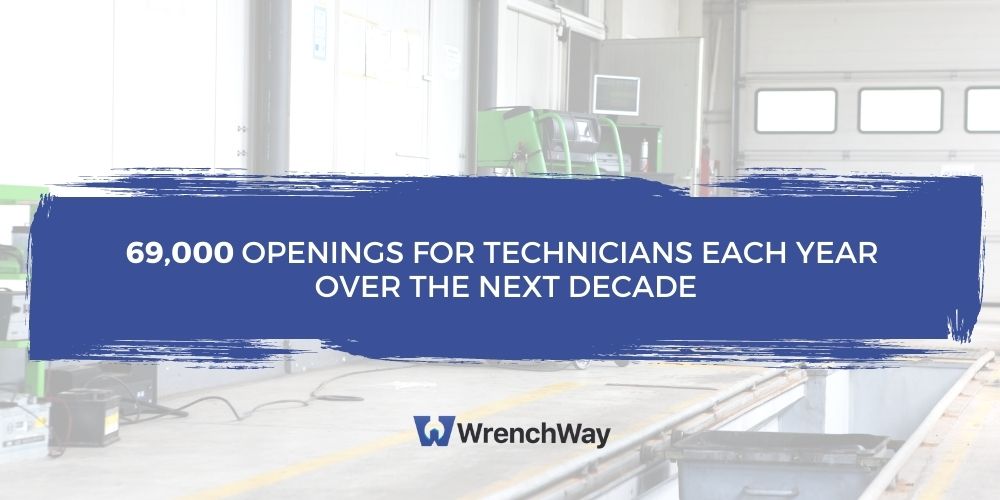 Why is There a Shortage of Technicians?
The technician workforce is aging.
The majority of technicians today are baby boomers and older gen-xers, with the average age of a technician being 45-years-old. As these individuals start moving into more front-line service roles or even start to retire, there needs to be qualified technicians to fill their roles. Unfortunately, that brings us to our second issue.
Millennials aren't entering the trades at the same rate as baby boomers and gen-xers once did.
After the release of the Nation At Risk report in 1983, where the poor quality of education in America was exposed, there was a strong push for schools to focus on academics and make sure kids were college-ready. While the focus on academics is certainly important, we saw a decline in vocational education. As a result, less millennials got the opportunity to develop and explore an interest in the trades, and we are now seeing the impact that has had on the trade industries today.
The vehicle population is increasing by 3 million every year.
The driving force (pun intended) behind the growing technician demand is the increasing vehicle population in the United States. More people own vehicles than ever before and people are keeping their vehicles for longer periods of time. To top it off, cars are becoming more software-driven — requiring a greater level of competency and knowledge that must be obtained through proper training and ASE certifications.
---
How to Recruit Technicians – The Game Has Changed
As if the increasing demand and decreasing supply wasn't problematic enough, how shops find and recruit technicians has also changed.
Shops can no longer rely on a help wanted ad in the newspaper to fill their open technician positions. Job seekers are using online tools, such as social media, job boards, and even shop websites, more than ever when looking for a new position. In fact, 79% of job applicants use social media in their job search (Glassdoor). This means if your shop is not advertising job openings in these places, technicians won't see them and won't apply. Shops that adapt to the changing workforce and start taking a more strategic approach with their hiring efforts now are less likely to be scrambling to find technicians later.
It's not going to be easy, but that's why we made this guide! In this guide, we will walk you through how you can take a more strategic approach to finding and recruiting technicians to work in your shop.
In this guidebook, we will cover:

How to Attract & Find Technicians to Work at Your Shop
You can post on all the job boards, upgrade all your listings, advertise on all the social media platforms, but whether you fill the position or not really comes down to if technicians WANT to work at your shop.
Most shops struggle with this, but it's time to ask an honest question:
Is your shop a place that technicians want to work?
Even if you're confident your shop is a great place to work, take a look below some of the ways you can make your shop a place that technicians want to work.
In this section, we'll cover:
---
How to Write a Technician Job Description
Often times, the job posting is the first impression you'll make on technicians who are looking for a new job. And if that job posting is garbage, then you'll have a hard time attracting the technicians with the right experience and skillset you're looking for.
What to Include in a Job Posting
Job Title
Use a clear job title. Trying to give the job a "better title" will only attract the wrong applicants. Also, because job boards are keyword-based, it's important to make sure your job titles are searchable. For example, "Automotive Technician" is more effective than "Experienced Automotive Technician." Keep the details in the other parts of the job posting.
Salary Range
Include a salary range to increase the number of applicants.
Job Description
A short, concise description of the position.
Job Responsibilities
A bulleted list of all the day-to-day duties the individual will be responsible for.
Qualification Requirements
A bulleted list of the qualifications applicants MUST have in order to be considered. Some examples include: years of experience, level of education, certifications, and specific skills or knowledge.
Benefits
A list of the benefits you provide as an employer, including pay, insurance, time off, etc.
About Your Shop
While the benefits section covers the standard benefits, this section is an opportunity to share what makes your shop unique and why employees love working there.
How to Apply
Seems obvious, but be sure to provide clear instructions for how interested candidates can apply for this position.
Sample – Technician Job Posting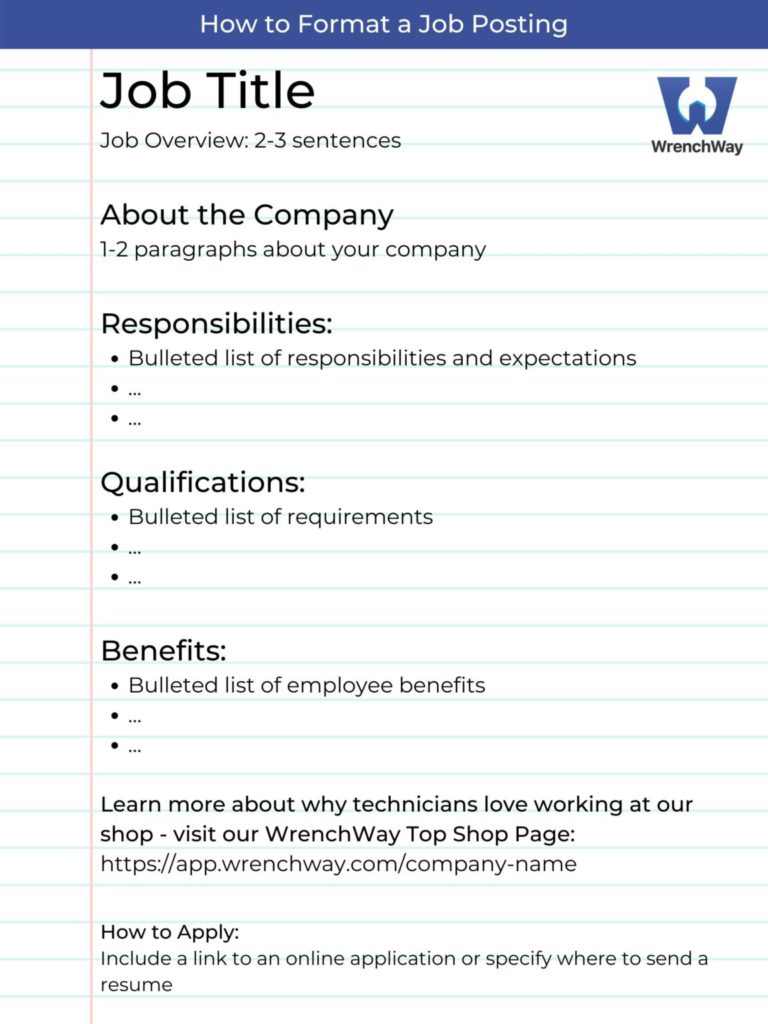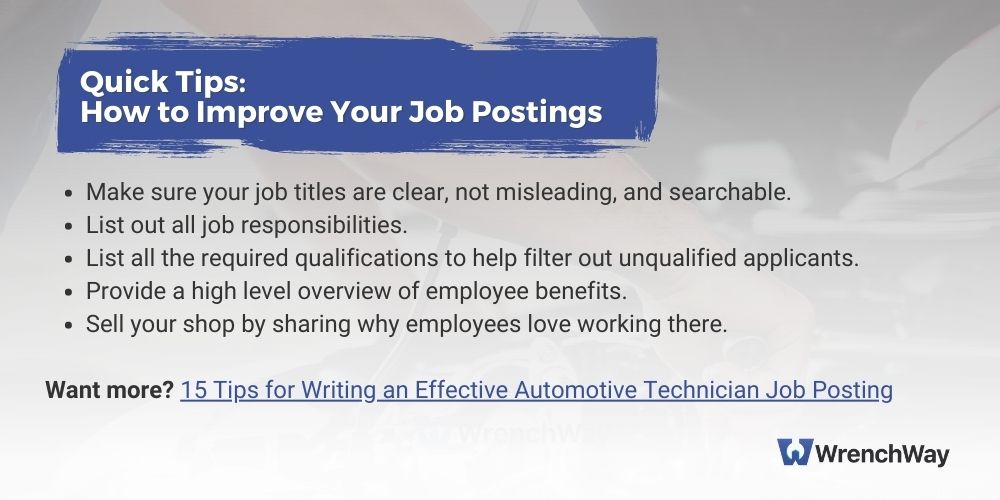 ---
Technician Salary: Pay and Incentive Plans
There is no getting around it — most candidates are ultimately going to base their decision on pay.
According to the U.S. Bureau of Labor Statistics, the average pay for an automotive technician or mechanic is $42,050/year. Of course, this number is going to vary greatly based on location, skills, and years of experience, but it does help give shops a baseline. In order to determine how much you should pay your technician, be sure you're doing your research and finding out what other shops in the area are paying. Browse job postings on technician job boards, google market rates, and check out competitors' websites to see what others are paying their technicians.
Hourly vs. Flat Rate
Technicians are generally paid by the amount of work they produce ("flat rate"), or by the amount of time they work. Ultimately, the decision on how to pay technicians is up to the owner or manager. However, it can be difficult to choose the right incentive plan that drives the best performance while staying competitive in the marketplace — and all while trying not to break the bank.
Put yourself in a technician's shoes. Many technicians fear flat rate because their income is severely affected in shops that struggle with erratic volume, parts delays, or insufficient bays. If a shop owner starts with the flat rate conversation, they severely limit the field of candidates willing to consider working for them.
When handling flat rate, it's important to clearly describe the steady flow or heavy volume of the shop. In addition, it's critical to have an annualized estimate of what a B tech and an A tech can make in a year with their current volume.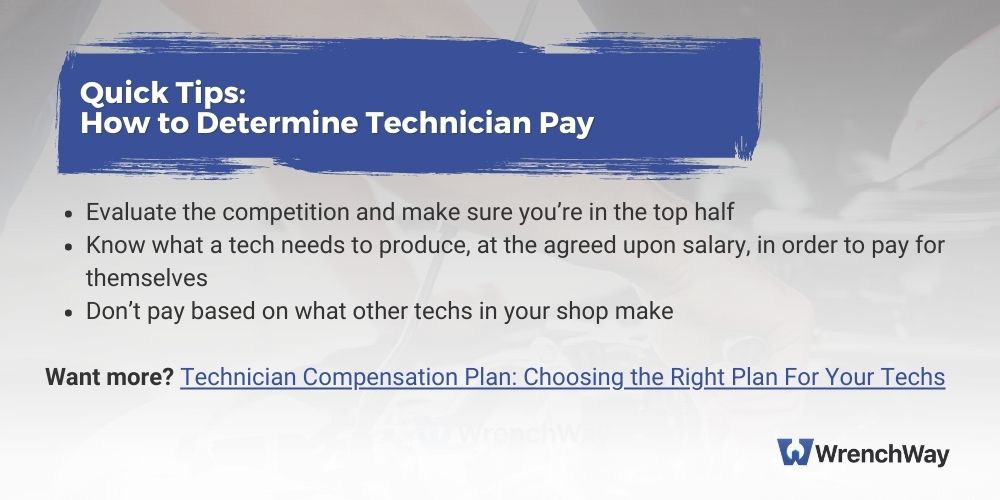 ---
Employee Benefits Shops Should Consider Offering Technicians
Offering a good benefits package is key to not only recruiting great technicians, but retaining them as well. As a result, 93% of businesses are taking action to improve their benefits and perks in order to attract and retain employees.
Unfortunately, many shops avoid offering benefits because of the expense. However, in a market where the average technician has more than 20 jobs to choose from at any given moment, even the smallest shop cannot afford to avoid the issue.
Below are some of the most common benefits shops should be considering offering their technicians.
Paid Time Off
Employees need and deserve paid time off of work. It also allows them to take a break to spend time with their friends and family — without having to worry about how the bills are going to get paid.
Health Insurance
In a recent study, health, dental, and vision insurance were identified as the most important benefit to consider when choosing a job. And with escalating healthcare costs, this should come as no surprise. Even still, according to Payscale, nearly half of technicians are not receiving any health benefits at all. This is a deal breaker for many technicians who need health benefits for themselves and their families. However, there are a variety of ways shops can offer health benefits and some are still budget-friendly.
Health Benefits
Subsidized Family Coverage
Cost Level: Most expensive
Value: Excellent for recruiting and retention
Description: Company provides subsidized insurance for both employee and dependents.
Subsidized Employee/Unsubsidized Family Coverage
Cost Level: Expensive
Value: Excellent for recruiting; Good for retention
Description: Company provides subsidized medical for employees and allows dependents to purchase coverage through the plan.
Partially Subsidized Employee Coverage/Unsubsidized Family Coverage
Cost Level: Less Expensive
Value: Good for recruiting and retention
Description: Company provides the coverage access and contributes a set amount towards the employee coverage. (Amount can be based on budget.)
Unsubsidized Coverage
Cost Level: Least Expensive
Value: Good for recruiting; less helpful for retention
Description: Company provides the coverage access, but the cost for both employee and family is paid by the employee.
Healthcare Exchange Allowance
Cost Level: Inexpensive
Value: Ok for recruiting; less helpful for retention
Description: Company provides no coverage, but offers a set amount each month towards purchase of insurance on the Healthcare Exchange.
No Coverage
Cost Level: Free
Value: Bad for recruiting and retention
Description: Company provides no coverage and offers no assistance in obtaining coverage.
401(k) and Retirement Benefits
With a 401(k), employees are able to deposit a percentage of pre-tax dollars from each paycheck into a retirement fund — making it easy to prepare for retirement. Employers also have the option to match a certain percentage of employee contributions up to a set amount. Often times, employers will set up vesting guidelines to increase retention. Vesting guidelines limit employee access to employer contributions until the employee has worked for the company for a certain period of time.
Retirement Benefits
401(k) with Regular Matching
Cost Level: Most expensive
Value: Excellent for recruiting and retention
Description: Company provides a 401(k) program, including automatic payroll deductions to enable employee to save for retirement. Company matches a percentage of employee salary. (Cost includes program setup, small monthly admin charge, and matching costs.)
401(k) with No Matching
Cost Level: Less expensive
Value: Excellent for recruiting; good for retention
Description: Company provides 401(k) program, including automatic payroll deductions to enable employee to save for retirement. (Costs include program setup and small monthly admin charge only.
IRA with Payroll Transfers
Cost Level: Free
Value: Excellent for recruiting and retention
Description: Company partners with local bank or credit union to educate employees and enable them to set up personal IRA accounts and set their payroll to automatically deposit a percentage to that account.
Retirement Advice
Cost Level: Free
Value: Less helpful for recruiting and retention
Description: Company arranges periodic visits from retirement advisor to help them setup individual accounts.
No Options
Cost Level: Free
Value: Bad for recruiting and retention
Description: Company provides no retirement planning options.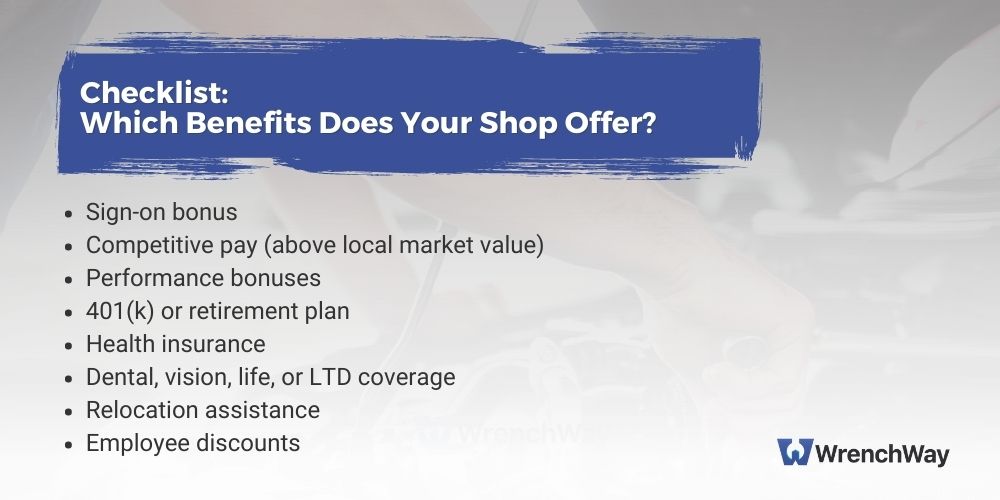 ---
How to Make Your Shop Stand Out From the Competition
The demand for technicians is high — giving them the ability to pick and choose where they want to work. This puts a lot of pressure on shop owners and management to not only offer competitive pay and benefits, but to also make sure their shop stands in other ways. Think about it this way…
If a technician is torn between working at your shop or a competitor's — both offering comparable pay and benefits — what are you going to say that will convince them to choose you?
Perks such as offering a tool allowance or making sure the equipment in your shop is up-to-date and well-maintained is going to make your shop stand out and win over the candidate.
It's also incredibly important to prepare your shop when a candidate is coming in for an interview. While a candidate is sitting in the waiting area before their interview, you certainly don't want them seeing your team fight, phones going unanswered, or customers getting upset. That impression cannot be fixed one it's made, and it can be easily avoided as long as you plan ahead and prepare your team.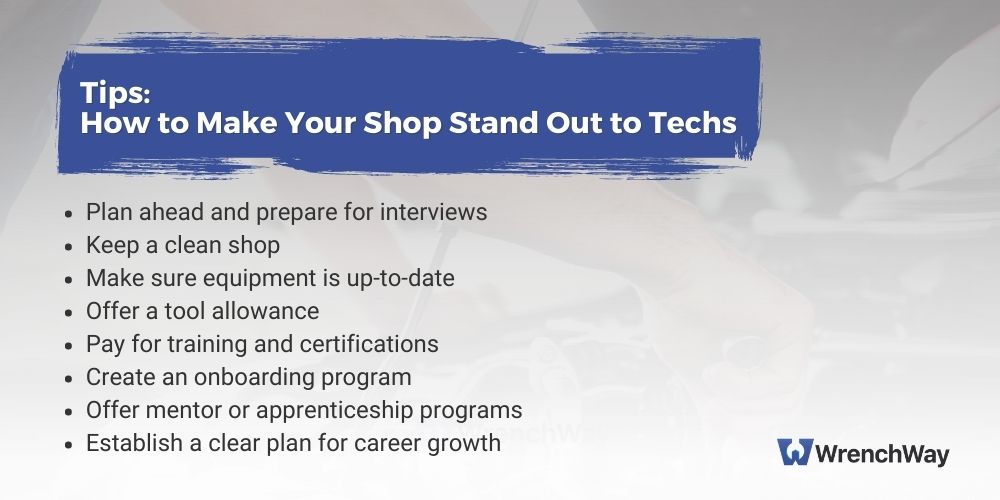 ---
Where to Advertise Job Openings
Once you've mastered the job package and job posting, it's time to start advertising your job openings. There are a number of different places shops can advertise their job openings. From job boards to social media to your shop's website — we recommend advertising job openings in multiple places to get as many eyes on your jobs as possible.
In this section, we will cover:
---
Job Boards for Technician & Mechanic Job Openings
Posting positions on job sites is a great way to get more eyes on your technician and mechanic job openings. Job boards are the number one channel job seekers use when looking for a new position.
However, with thousands of job sites out there — not to mention limited time and resources — it can be hard for shop owners and people in charge of hiring to know which job boards to post on.
Below is a list of the job boards we recommend shops post their mechanic job openings on. The following job sites span from high traffic volume to finely targeted in the automotive industry — the combination of which gives you the best chance of attracting the candidates you want.
8 Job Boards For Shops Hiring Mechanics
Indeed — With an estimated 250 million daily website visitors, Indeed is the #1 job site in the world. Spanning across all industries, Indeed estimates that 10 jobs are posted every minute on their site.
ZipRecruiter — ZipRecruiter has over 7 million active job seekers each month and is the #1 job search app on Android and iOs. With a ZipRecruiter subscription, you can post a job on ZipRecruiter, and it will get pushed to 100 different job boards.
CareerBuilder — CareerBuilder is one of the largest job boards. Like ZipRecruiter, CareerBuilder is a monthly subscription that employers can sign up for to post their jobs openings.
Glassdoor — Glassdoor is another large job board that attracts 67 million monthly visitors. What makes Glassdoor unique is its focus on employee reviews, which gives job seekers an inside look at company culture.
Google for Jobs — Google for Jobs is a search engine for job postings — pulling in listings from various sources. What's great about Google for Jobs is instead of visiting a job site, users simply type a job in the Google search bar, and Google for Jobs brings up listings in the search results.
Facebook — Facebook has over one billion active users and is growing exponentially. As job seekers start using social media more to research potential employers, it becomes more important for shops to include job openings on their Facebook pages.
LinkedIn — Just like Facebook, job seekers are relying on LinkedIn more during their job search. LinkedIn is the world's largest professional networking site, making it the perfect place to advertise job openings.
Monster — Monster was one of the first job boards online, and still remains a go-to resource for job seekers. Monster is great for one time job postings, as they don't require a subscription.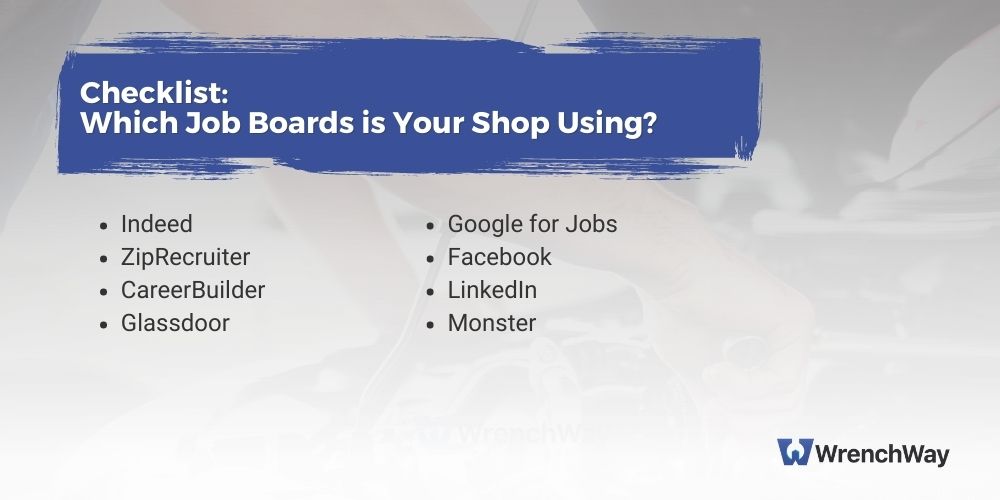 ---
Promoting Jobs on Social Media
With close to half of the world's population on social media, there's no question on the importance of your shop's social media presence. Many shops are already interacting with their customers on sites like Facebook and Twitter, but few are taking advantage of the huge opportunity to market themselves to job seekers.
More job seekers are now turning to social media even over job boards when looking for a new position. In fact, Aberdeen Group recently found that 73% of millennials found their last position on a social media platform.
Let's take a look at how your shop can advertise job openings on two key social media sites: Facebook and LinkedIn.
How to Advertise Job Openings on Facebook
There are a few different ways you can advertise job openings on your shop's Facebook page.
Write a Facebook Post
The most obvious, and easiest way to advertise job openings on Facebook is by creating a Facebook post. Keep it short and sweet, and be sure to include a link to your job posting or career page (more on creating a career page below!) for people who want to learn more.
Add a Jobs Tab to Your Facebook Page
Another great way to advertise job openings on Facebook is by adding a jobs tab to your Facebook page. This is a great option for shops that have multiple openings or are hiring regularly throughout the year.
How to Add Jobs Tab to Facebook Page
From your company's Facebook page, go to Settings.
Select Templates and Tabs from the left navigation menu.
Scroll to the bottom of the page, and select Add a Tab.
Next to Jobs, select Add Tab.
Once you close out of the window, you will see the Jobs tab has been added to your template.
If you click on Settings next to the Jobs tab, you have the ability to turn the tab on and off, and be able to get a link directly to the Jobs tab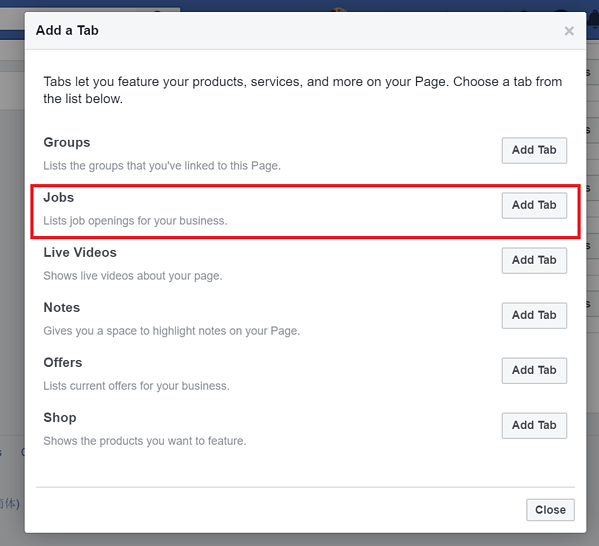 How to Add Jobs to Your Facebook Jobs Tab
From your company's Facebook page, select the Jobs tab.
Select the green Create Job button.
Add in all the information about your job opening, including:

Email address for applications
Job title
Job location
Salary range (optional)
Job type (i.e., Full-Time, Part-Time, etc.)
Job description
Benefits
Schedule
Applicant questions (optional)
Photo (optional)

Once you've added in all the required information, select Post Job.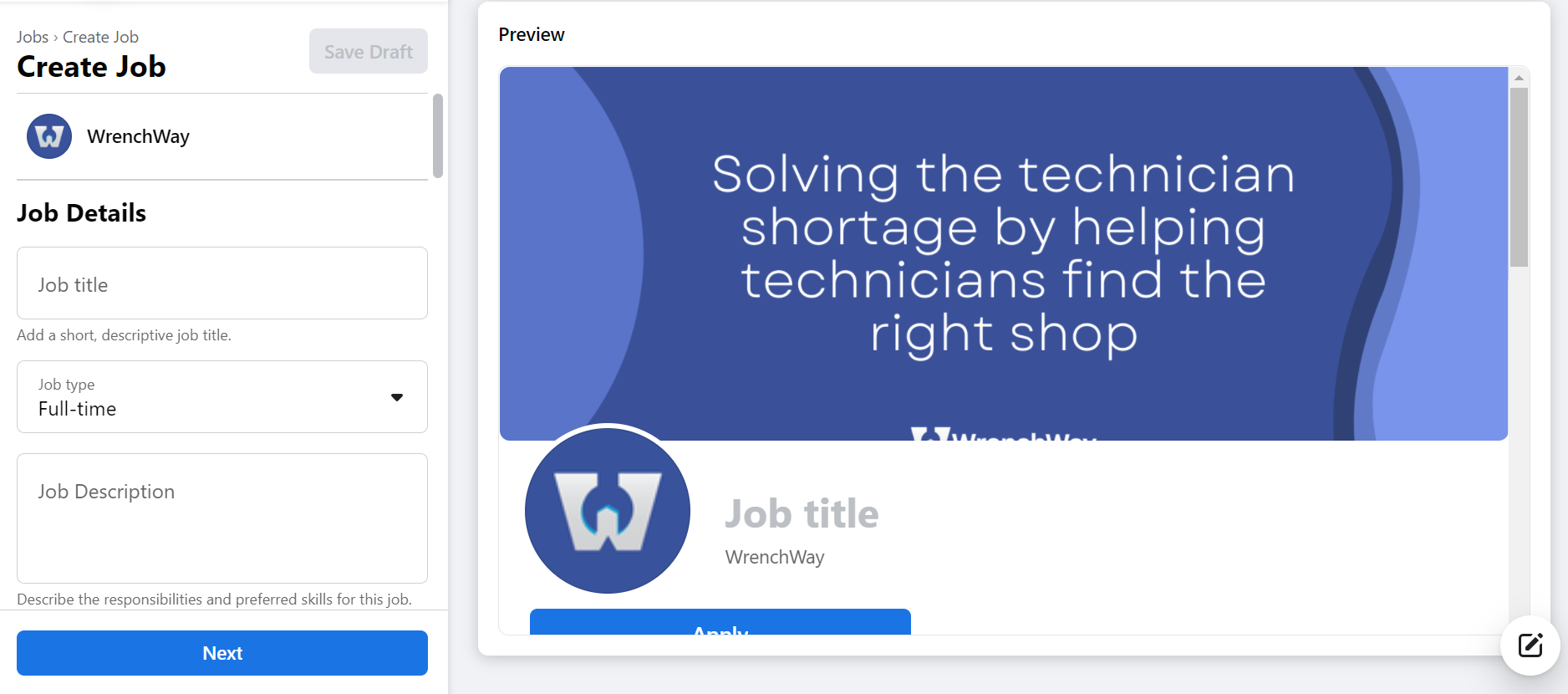 Boost Jobs to Reach a Larger Audience
When creating a job post, Facebook also gives you the option to "Boost" or promote your job to a larger audience on Facebook. This is a great option for shops that are looking to fill a role quickly or for shops who need a master tech or tech with specific certifications or experience.
How to Boost a Job on Facebook
If you are creating a new job, follow the steps above and once you've finished entering in all the required information, select Boost Job.
If you want to boost an existing job, navigate to the job post under the Jobs tab and select Boost Job.
Type in the Location you want to advertise your job opening in. Once you select a city or region, you can modify the radius to specify how far outside the city/region you want to advertise.
Next, select either the number of days you want to advertise the job opening for or select a date from the calendar.
Enter in your Total Budget.
Once your budget has been met, your job ad will stop running.
Enter in your Payment information and select Set Budget.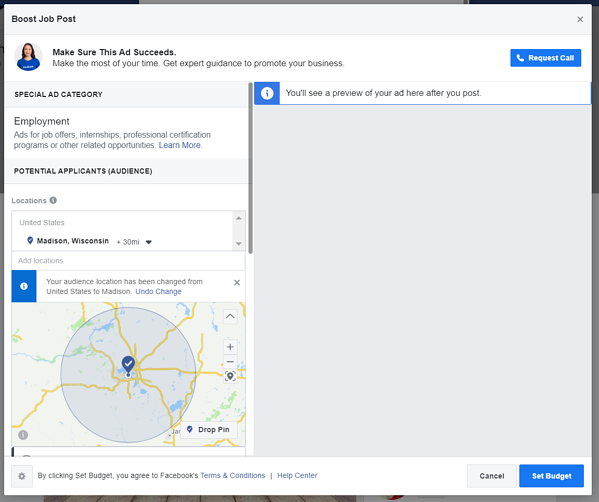 Post Jobs in Facebook Groups
A great place to post job openings on Facebook is within Facebook groups. It requires a little work upfront to find, identify, and join the Facebook groups where it makes sense to post your jobs. However, once you join, you can post to the groups regularly.
How to Find Groups on Facebook
Once you're logged into Facebook, use the search bar to look for a group that might be relevant to your industry and area (i.e., "Philadelphia automotive jobs," etc.)
Select Groups to limit your results to only groups (versus people, pages, etc.).
Click on any of the search results to learn more about the group.
Once you've identified a group you'd like to post to, click + Join to request to join the group.
You will receive a notification once your request to join has been approved, and you can then post jobs to the group.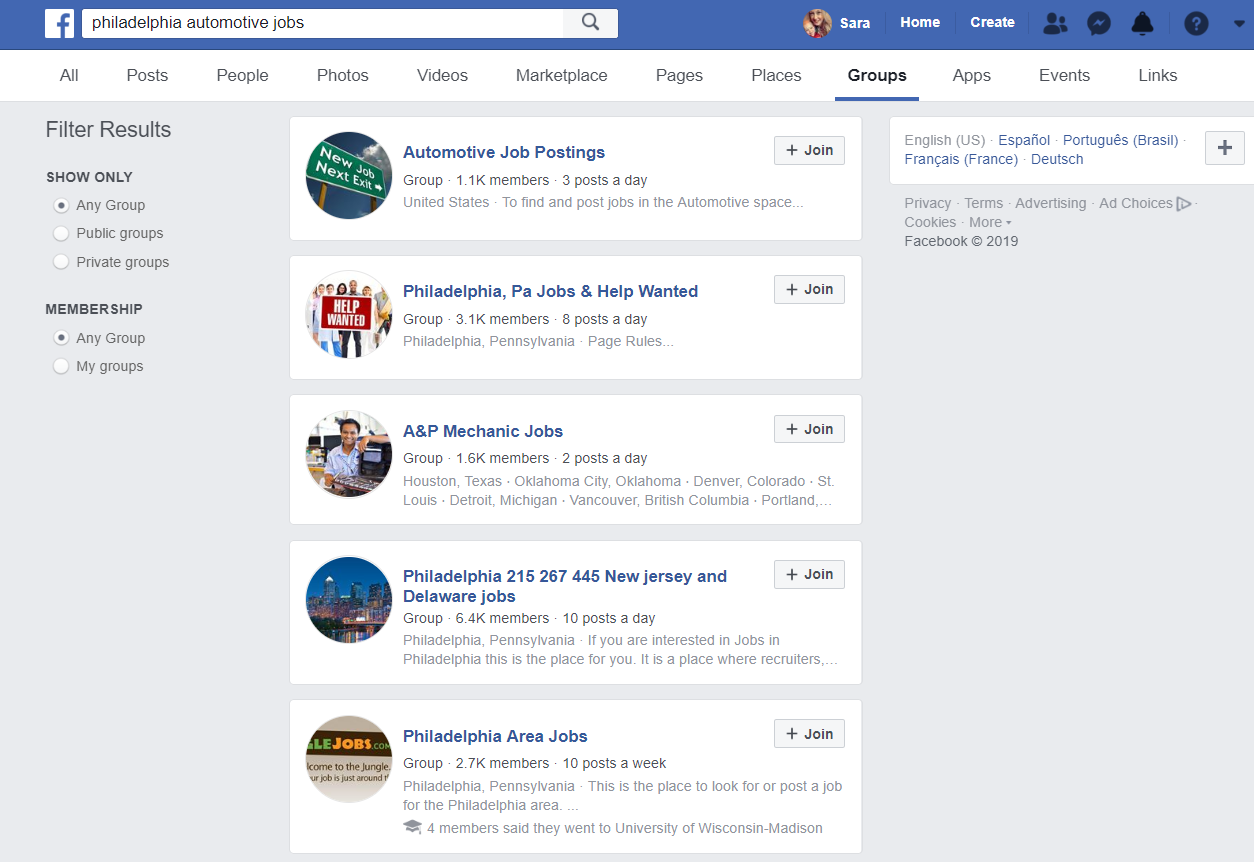 How to Advertise Job Openings on LinkedIn
There are a few different ways you can advertise job openings on your shop's LinkedIn page.
Write a LinkedIn Post
Just like with Facebook, the easiest way to advertise your shop's job openings on LinkedIn is by creating a LinkedIn post. Again, it's best practice to keep your post short and to the point, with a link for interested applicants to learn more.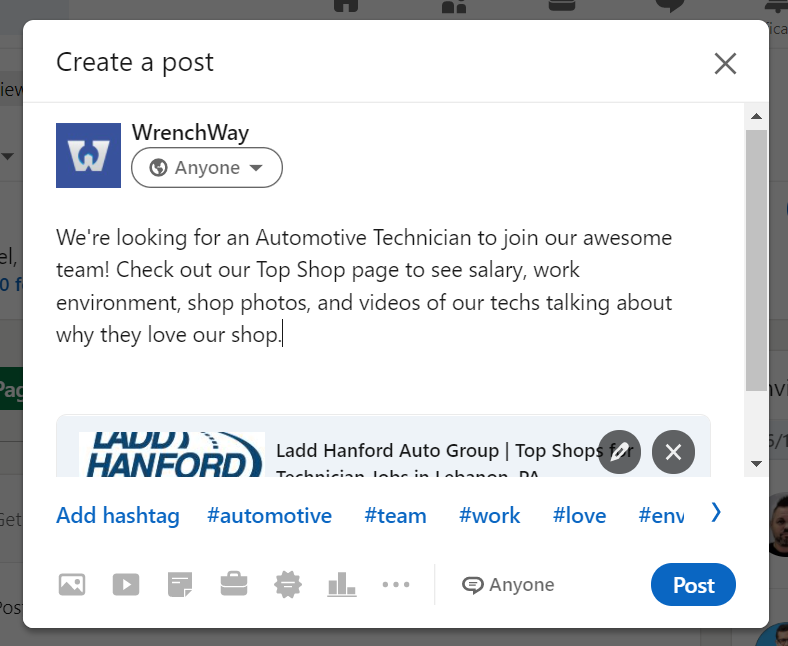 Create a Career Page on LinkedIn
For shops that have a number of job openings or are hiring continuously throughout the year, a Career page can be a great extension of your company's LinkedIn page. The Career page gives you additional tabs on your LinkedIn page, such as Jobs and What We Do, allowing you to add new sections to better showcase what it's like to work at your company.
Career pages are a paid feature of LinkedIn, and to purchase one you need to contact a LinkedIn representative.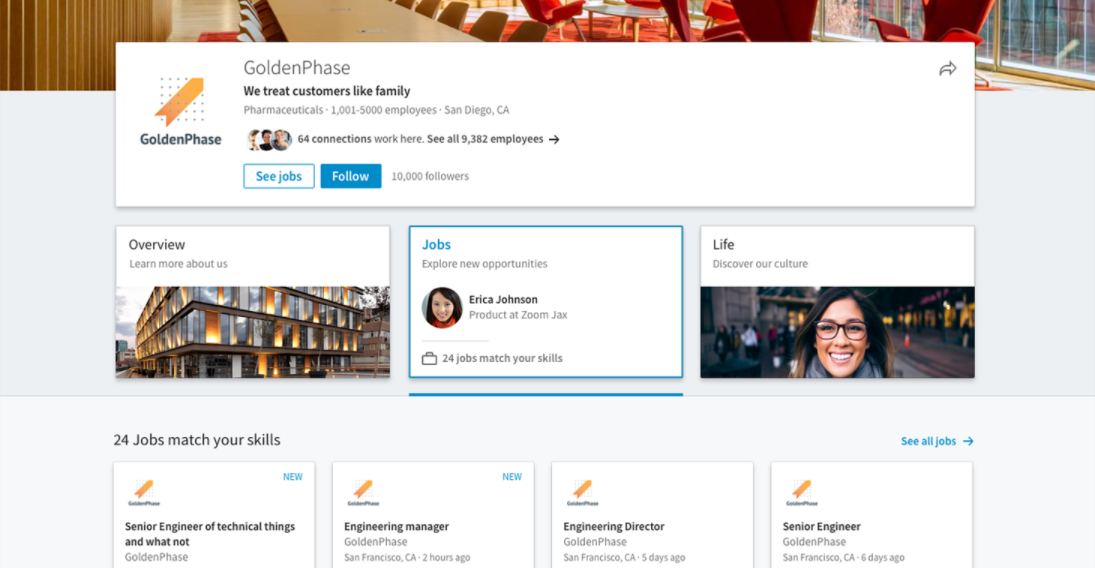 How to Post a Job on LinkedIn
Posting a job on LinkedIn is a paid feature, much like Facebook's Boost feature. It allows you to reach a larger audience on LinkedIn, and is a great option if you want to hire a highly skilled tech or need to fill a position quickly.
How to Post a Job on LinkedIn
From your company's LinkedIn page, select Admin Tools > Post a Job.
Enter the following information and select Start job post:

Company name
Job title
Location

Fill in the following details of the job and select Continue:


Job function
Employment type
Company industry
Seniority level
Job description
Skill keywords (optional)
How you'd like to receive applications

Add in additional screening questions (optional), and select Continue.
Set your Daily Budget, and choose if you want your job posting to end when you close it or when you reach your total budget. Then, select Proceed to Checkout.
Enter your payment information and select Post job.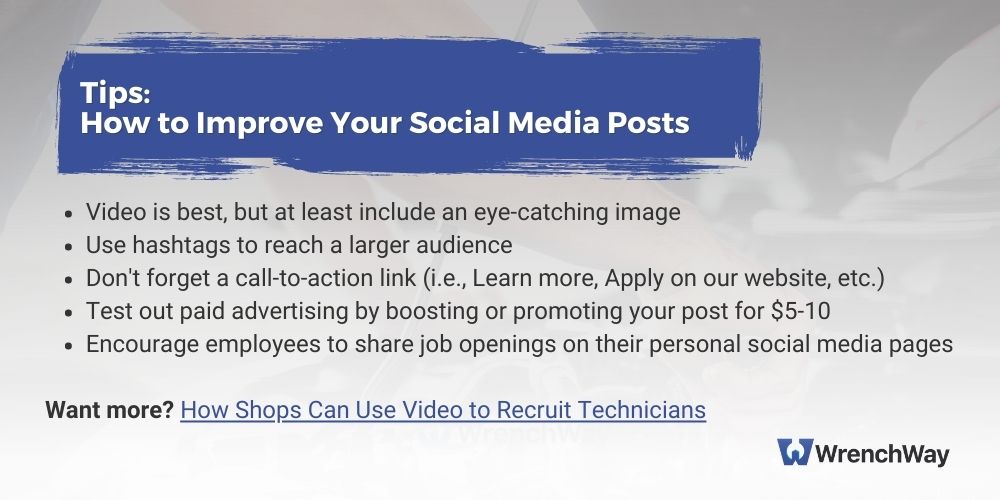 ---
Creating an Employee Referral Program
Employee referral programs have become a popular recruiting strategy for companies, and for good reason. According to CareerBuilder,
82% of employers rate employee referrals above all other sources of generating the best return on investment.
Employee referral programs encourage current employees with rewards to refer candidates for job openings. Implementing a referral program is a great way to improve on time and cost of hire.
Implementing an employee referral program doesn't need to require a ton of staff, effort, and budget. We'll walk through some of the basics of setting up a program for your shop.
However, if you're interested in a comprehensive guide to setting up an employee referral program, we'd recommend checking out TalentLyst's Guide for Setting Up an Employee Referral Program.
How to Create a Simple Employee Referral Program
Tell your employees how they can help.
This can be as simple as having employees share job openings on their personal social media accounts, or asking if they know anyone who would be a good fit for job openings.
Offer incentives for referral hires.
Many companies offer a cash incentive when they hire someone who is referred by another employee. You could even offer an additional cash incentive once the new hire has been with the company for a certain period of time.
Promote. Promote. Promote.
Employee referral programs are not "set it and forget it" thing. You should be sending periodic reminders to your employees — especially when you're hiring for multiple positions.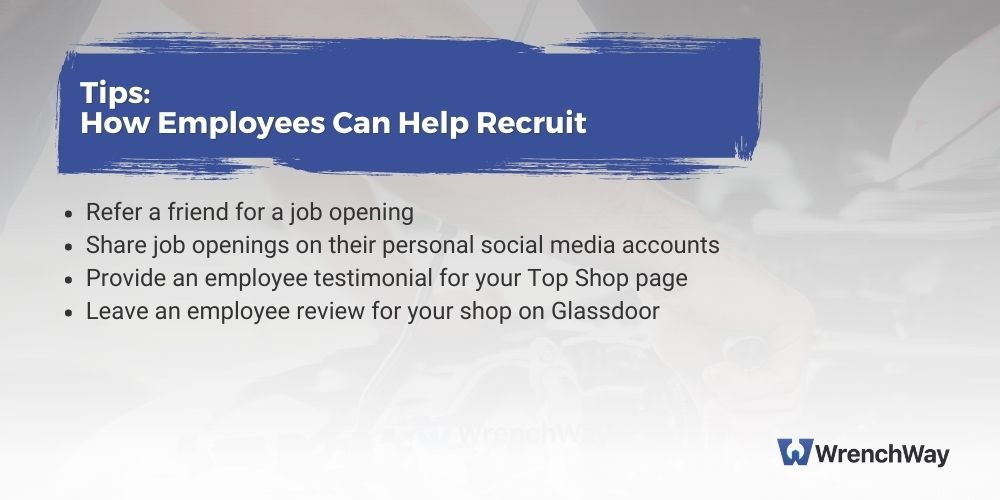 ---
How to Attract Passive Candidates to Your Technician Jobs
If you've been trying to hire a mechanic for your shop or dealership, you have probably figured out quickly that the majority of qualified technicians are already employed and not actively looking for a new position.
Hopefully you've already taken the first step of posting your job opening on every major job board to attract the techs who are actively looking. But, in today's market, the key to finding mechanics to hire is by recruiting passive candidates.
What are Passive Candidates?
Passive candidates are people who are already employed and not actively looking for a new job. However, they're open to hearing about new opportunities.
An estimated 85% of employed professionals are open to switching jobs.
What does this mean for shops and dealerships that are only posting tech jobs on job boards? They're missing out on the majority of their candidate pool because they aren't proactively reaching out to them.
How to Recruit Passive Candidates
Focus Less on Recruiting, More on Employer Branding
Since finding a job is not top of mind for passive candidates, posting that you're hiring isn't going to catch their attention. Instead, show off all the great things your shop has to offer. This could be showing off equipment/tools, sharing videos of your technicians, or highlighting unique benefits. 
Incorporate Video
By 2022, over 82% of internet traffic will be video. Studies have shown that video generates more views, shares, and overall engagement than any other type of content. Video is the perfect opportunity to easily show off their shop to potential hires. Videos don't need to be expensive or overly-produced. They can just be an authentic, inside view of what's going on inside of your shop.
Don't Forget About Social Media
Most shops only use social media to attract customers, but it's also a great way to attract technicians to potentially hire. In fact, 62% of job seekers use social media channels to evaluate the employer brand of a company. Again, it's ok to post that you're hiring, but be sure to also incorporate content that more subtly attracts technicians to your shop.
Encourage Employees to Help
Did you know that your shop's social posts can reach 561% farther when shared by your employees? Asking employees to share videos or photos of your shop on their personal Facebook or LinkedIn page is an easy, yet often overlooked, way to get in front of potential candidates. You could even incentivize them by offering a candy bar or small gift card for sharing your post with their network.
Put It All Out There
Passive job seekers are not going to put a lot of time or effort into applying and interviewing unless they are fairly certain it's a good fit. This is why it is so important for shops to be transparent and make all the information about the job and their shop available for candidates to see before they even apply. Leave no question unanswered. Whether it's on your website or a Top Shop page, be sure to share:
Compensation ranges for all levels
Detailed benefits information
FAQs on work environment, training and career development, and hiring process
Photos of the shop and equipment
Videos of your employees