Reverse Job Posts Now Available on Browser
Reverse Job Posts have been available for a while on the free WrenchWay mobile app. Now, technicians can also create Reverse Job Posts on the WrenchWay website.
Check out Reverse Job Posts on WrenchWay.com
About Reverse Job Posts
Reverse Job Posts flip the traditional job board around. With traditional job boards, technicians have to search through hundreds of job posts that all look the same. With Reverse Job Posts, technicians fill out a quick questionnaire about their skillset and what they're looking for in a shop. Then, shops that are approved by the tech get notified and can reach out with job opportunities. Learn more
Technicians Can Post on Shop Talk—Limited
We're rolling out the ability for technicians to post videos and/or photos on Shop Talk. This is currently only available to a limited number of users, but we will be expanding this feature in the future.
If you're a technician interested in testing out this new feature, contact us.
New Game on Shop Talk—$1,000 Giveaways Every Week
We recently launched a new game on Shop Talk called the Loneliest Number. Anyone with a free WrenchWay account can answer poll questions and earn points to play the weekly Loneliest Number game. Each week, the winner gets $1,000 ($500 for them and $500 goes to the high school tech program of their choice).
Check it out and play on Shop Talk
Shops Can Now Post Non-Video Content on Shop Talk
WrenchWay Top Shops can now create non-video posts on their Top Shop page and Shop Talk. With the non-video post, shops can share a photo along with text just like any social media site. We even provide new templates each month for both video and non-video posts to make it easier for shops to share content.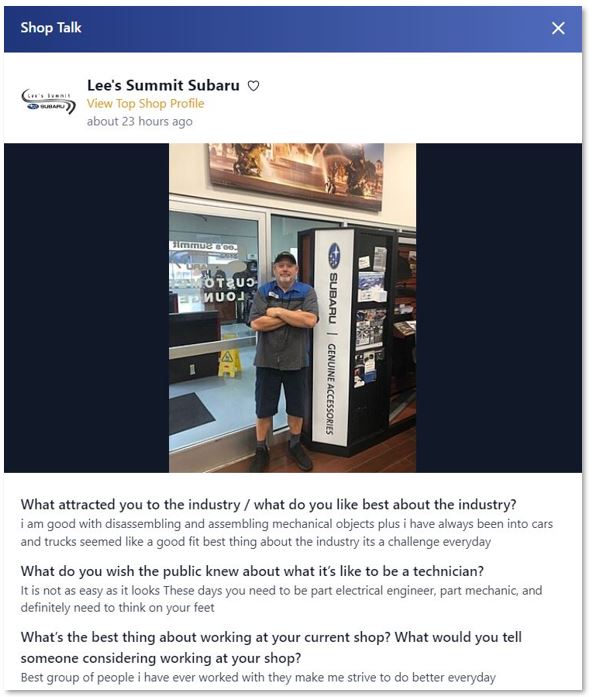 Ability to Follow Shops
Anyone with a free WrenchWay account can now follow shops on WrenchWay. As the number of shops we have on WrenchWay continues to grow, the ability to follow shops makes it easier for users to follow, track, and stay up-to-date on the shops they're interested in. In addition, users can leave notes about their favorite shops. These notes are private and only seen by the user.