Our goal at WrenchWay is to help promote and improve technician careers. We work hard to not only help shops attract technicians, but also to help schools improve their technician programs.
As the new school year kicks off, we are excited to announce that we will be doing weekly giveaways—putting extra cash into the hands of technicians and high school technician programs.
How It Works
Each week starting October 1, 2022, we will post a poll question on Shop Talk. Everyone who answers will be eligible for the weekly prize. Each weekly winner will receive $500 and will also get to pick a high school technician program to receive $500.
Weekly Giveaways to be Donated By Our Amazing Sponsors
JASPER Engines & Transmissions has signed on as our platinum sponsor—generously donating $10,000 towards the weekly giveaways to support technicians and high school programs.
We still have over 10 sponsorship opportunities available at our gold and silver levels. All sponsor opportunities come with exclusive chances to get your brand in front of the industry through the WrenchWay platform, Beyond the Wrench podcast, our annual TechMission event, and more! All sponsorship proceeds go directly towards the weekly giveaways to technicians and schools.
Want to Get Involved?
Check out our flyer: WrenchWay Sponsorship Opportunities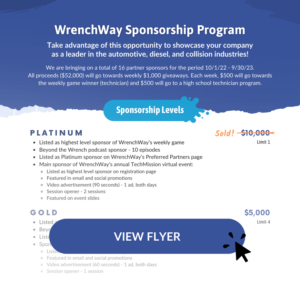 Interested or have questions? Email Val Klein, Marketing Specialist at WrenchWay, at valerie@wrenchway.com.