I recently got the pleasure of going down memory lane and visiting my old high school. While some things remained unchanged, there was one big change since my days of roaming the halls at D.C. Everest Senior High School—the expansion of their Career & Technical Education area.
In 2018, voters approved the $60 million referendum for the district, which involved additions to the high school's technical education classes.
I was fortunate enough to tour the newest additions to the CTE program, and sit down with Aaron Hoffman (CTE Coordinator), Chad Pagenkopf (Technology Education Instructor), as well as a few students to learn more about their automotive program.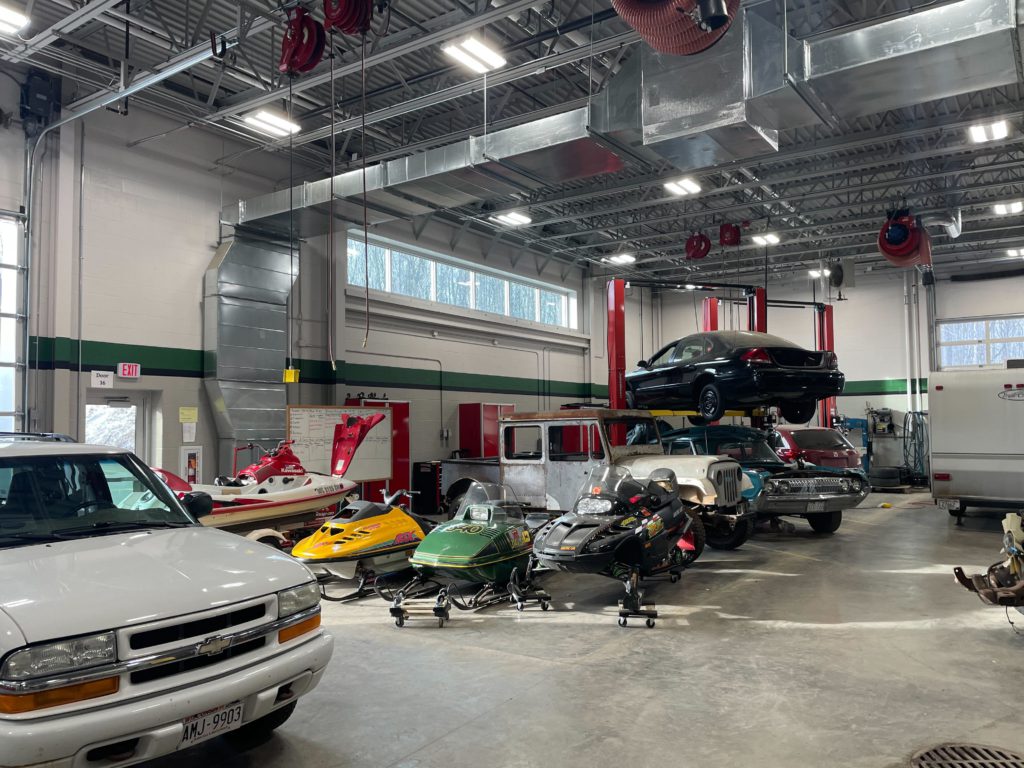 About the Transportation Program
Course Offering:
Consumer Car Care—4 semester sections with 95 students
Automotive Powertrain Systems—1 semester section with 18 students
Automotive Support Systems—1 semester section with 15 students
Automotive Service Fundamentals DE—1 two-period full-year section with 12 students
Small Engines—4 semester sections with 94 students
Power Sports—1 semester section with 21 students
"We're excited to see the growth in the beginning level classes as we continue to grow the upper level classes. We are continually looking for value-added opportunities for the upper-level classes. In fact, we are currently working with Northcentral Technical College to expand diesel-related dual enrollment offerings starting in the '23-'24 school year."

Aaron Hoffman, CTE Coordinator, D.C. Everest Senior High School
Growing the Automotive Program
Chad Pagenkopf has been the automotive instructor at D.C. Everest for three years. The biggest priority for Chad when he took over was making sure all the tools were organized and there was a system and process in place to keep it that way.
"Previously, students were wasting their time trying to find the right tool. We needed to set a new standard so that students could be productive during their class time," Pagenkopf explained.
With a system in place, Chad started actively recruiting students to take his class.
"I'd see kids in the hall and ask why they aren't taking my class. Once kids noticed that the shop was clean and they could find things, then they wanted to join," Pagenkopf explained.
In addition, the auto program puts on a car show every year during school hours that has been successful at attracting new students. The car show has garnered a lot of community support—bringing in local car clubs, local alumni that work in the industry, another school district, and faculty and staff. This has been a great opportunity for students to show off what they're working on.
Conrad Gregurich, a senior at D.C. Everest Senior High School and third year automotive student, talks about his experience with the high school's automotive program.
"My favorite part of the class is it's like a business. You start with oil changes and gradually start to do more over the three years… This class has prepared us very well for industry. It really is run like a shop."

Conrad Gregurich, Senior at D.C. Everest Senior High School
After high school, Gregurich plans to continue his automotive education, and he's not alone. Pagenkopf says just about all the students who have taken the high-level auto class go onto some auto or diesel program at a post-secondary level, and 90% of them are already working part-time in the industry now.
Supporting Alternative Pathways After Graduation
The district has done a fantastic job at creating an opportunity-rich environment to prepare students for life after high school—whether that be college, technical school, the military, or the workforce.
"We're looking at ways to say, 'When you leave D.C. Everest, we hope you have a technical college credit or dual enrollment credit in your back pocket. We hope you have some certifications that you can add and take with you to set you up for success.' Maybe that's AP credits as well. So the kids that still want to take the university track, there are opportunities for them. But I'd say the other opportunities have really grown."

Aaron Hoffman, CTE Coordinator, D.C. Everest Senior High School
"Youth apprenticeship has really taken off. As little as five years ago, we might have had a dozen students all together. Now, we've been hovering right around 55-60 consistently over the last three years. We're already on track to at least meet or exceed that goal next year," Hoffman explains.
Continuing to Expand CTE Offerings
Even with all the CTE opportunities D.C.E. provides for students, they continue to invest in and expand their offerings. Next year, the school is going to be offering a new course, Career Capstone, which will offer more guidance about employability skills, and there's a work-based learning component. They already have 34 students registered.
As D.C. Everest continues to expand their offerings, industry partnerships will play a key role in growing their transportation programs. The Wisconsin Automotive and Truck Education Association (WATEA) has been a valuable advisory group for their transportation curricular offerings. Additionally, WATEA offers a program called "Wheels to Work" in which students make necessary repairs to donated vehicles so that people in need can secure the transportation required to keep them in the workforce.
"This year we expanded our Wheels to Work partnership to include weekend shadow opportunities. Students from our transportation classes donate eight hours on select Saturdays to learn under the guidance of licensed technicians and increase the effectiveness of the Wheels to Work program," Hoffman explains.
Industry partnerships like this are imperative to the growth of the transportation program and the success of the students. If anyone is interested in learning more about D.C. Everest's program or would like to discuss partnerships, you can reach out to Aaron Hoffman via WrenchWay School Connect.